"Are you in this Lagos?" Is a line my friend uses often in conversations with me. At first, I found it a bit presumptuous for him to ask me if I am in this Lagos, this very Lagos I have been before him. Still, thinking about it helped me realize that I am still amused by things in Lagos he had long taken as normal, perhaps because I have either not experienced them enough or refused to accept them as part of life. So, to him, I am not in this Lagos.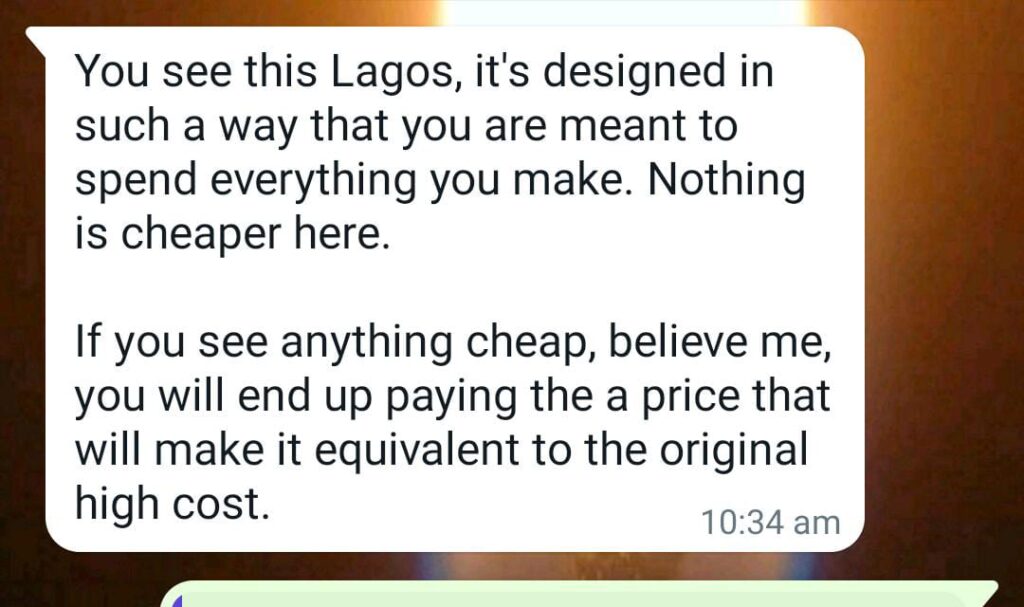 Lagos is too diverse a state for two people to have identical experiences. But there are basic ingredients of life in mainstream Lagos and they are present at all times in the lives of "regular" Lagosians.
Moving from place to place in Lagos is a problem. It is not as the books predict and it unapologetically defies the fundamental laws of Physics and Mathematics. Cost of travel is not a function of distance, and the time of travel is not proportional to fare.
In Lagos, an always apt response to questions of time and cost is "it depends"  Down here, nothing is absolute. Lagos is a city that can never be defined, it does not fit into the template of any city in the world. It is in its own league.
I suppose that even for a bit, I  have been in "this Lagos",  and I have paid my dues;  once upon a time,  I was on the road for over an hour either to or from work each day, yet the ideal time for commuting that distance is 15 minutes.
I have experienced first-hand how hard it can be to find decent accommodation and not pay through the nose. I once walked for several kilometres due to traffic until my legs felt like they were sinking into my stomach. I believe that I have seen it all; why then is my friend quick to point to me that I was losing touch with "this Lagos"?
A meeting at work exactly a week ago went on for longer than was planned, I thus had to make adjustments by an hour, to the time I would journey to "this Lagos" part of Lagos.
I started out as a believer with faith in the idea that Lagos is embracing transport technology. Technology is good. So  I tried to order a ride, but it kept getting cancelled and for no just reason, none that I know of at least… This is Nigeria where an online rating of people service providers does not seem to matter, and this is Lagos where Uber and Bolt drivers cancel rides with no explanation. After a quarter of an hour, one driver  called and asked:
"Where are you heading to?"
"I want to pick up an item at Ojuelegba, then head back home"
"I am not coming please"
"Why? Why is everyone canceling? The traffic is not bad according to my map na…"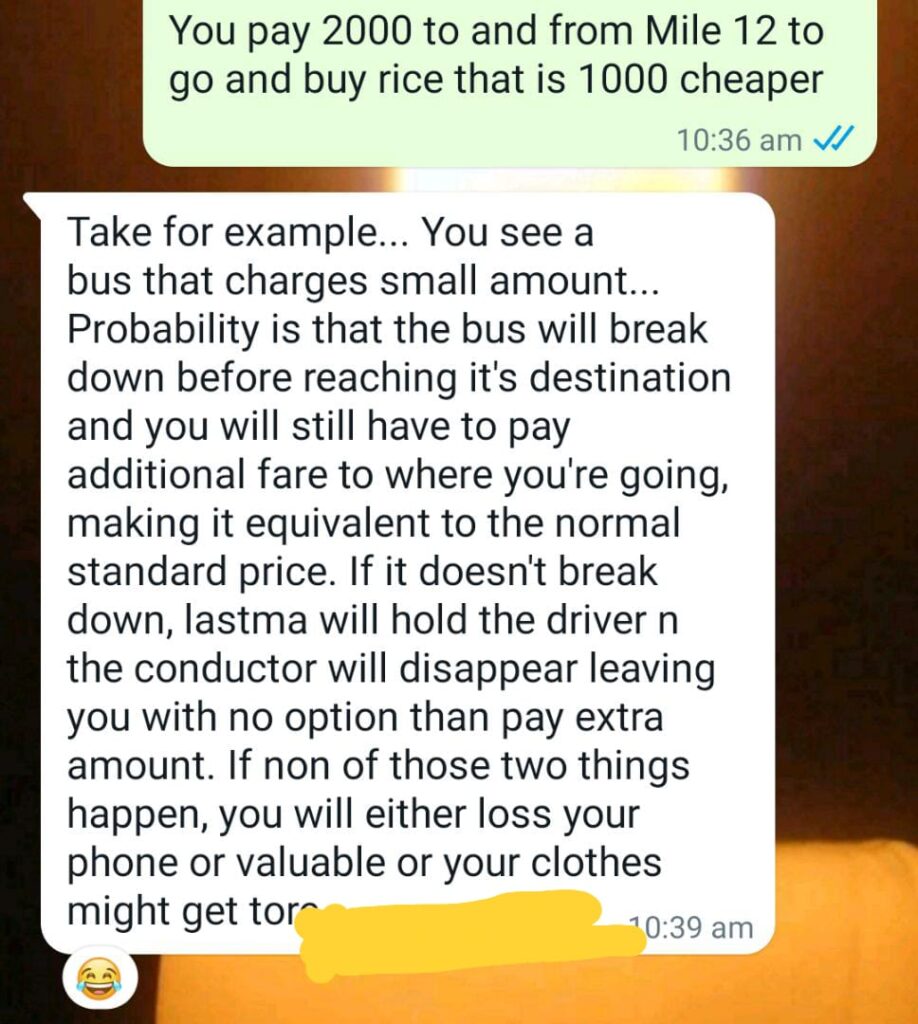 "Oga, police and agbero wey dey there, shey na you go give me money if dem catch me, abhi na your map go tell me how I go take avoid them? I no dey go jare!". That answered it, he canceled the ride.
This and the series of calls I got from the person I was set to meet made me change plans. I walked from where I was to the bus stop on the expressway. I was not afraid, my "this Lagos" experiences were in the bag, I only needed to retrieve them for use, now that I had a need for them. 
There were some twenty people at the bus stop and few buses stopping to pick commuters; the 20 persons scrambled for the one or two available seats.  It was worrisome that as the number seemed to decrease, more people came. It was clear that until many 'danfos' came at once, the wait could be forever. Well, I got my wish after a ten-minute wait, and once again, I was having the Lagos "danfo on the expressway" experience…I was in "this Lagos" after all.
It was meant to be a fairly short journey through a familiar route, some six bus stops from where I boarded the bus. An evening trip also meant that some of the illegal tax enforcers motorists dread on Lagos roads would not be there. I expected to be at my destination in 15 minutes.
By the third terminal, the bus was filled up and no one intended to alight, so the driver moved from the service lane to the speed lane. Unsurprisingly, vehicles were moving slower as some buses ahead, stopped in the middle of the road to pick up passengers in the usual Lagos style.
Suddenly, an aghero or tout clung to our danfo like an egret on a cow, and the usual demand came: "owo mi da!"
When I arrived Lagos, the phrase confused me.  Growing up, I was familiar with "owo" . It was part of the "money-kudi-owo" three-in-one phrase people used back home, a phrase seemingly made popular by a rich politician.
I felt that "owo mi da" should mean "money for ticket" but I saw no tickets issued. It could not mean "loading money" as they were obtained from moving vehicles, and often, ones that neither dropped off nor picked up passengers. Unable to decipher myself, I asked someone for the meaning of the phrase.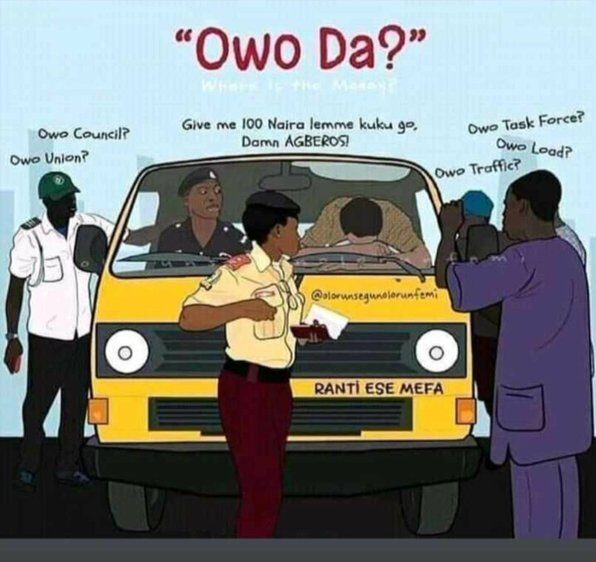 "Owo mi da means 'give me my money'" I was told. I could not comprehend how a bus conductor would know so many people between Ojota and Apapa, for instance,  to be owing all of them, nor did I understand why he should keep paying money to "agberos" at almost every bus stop.
Two years ago, Lagos introduced green-and-white uniform-wearing "agberos" to supposedly harmonize the levy system and have more control on the illegal tax, but this only complexified the already difficult situation for the danfo drivers. They had to deal with LASTMA, police and factions of plain-cloth "agberos" and now uniformed "agberos", at the same bus stop. This short trip was in the evening, so I did not expect to encounter these people.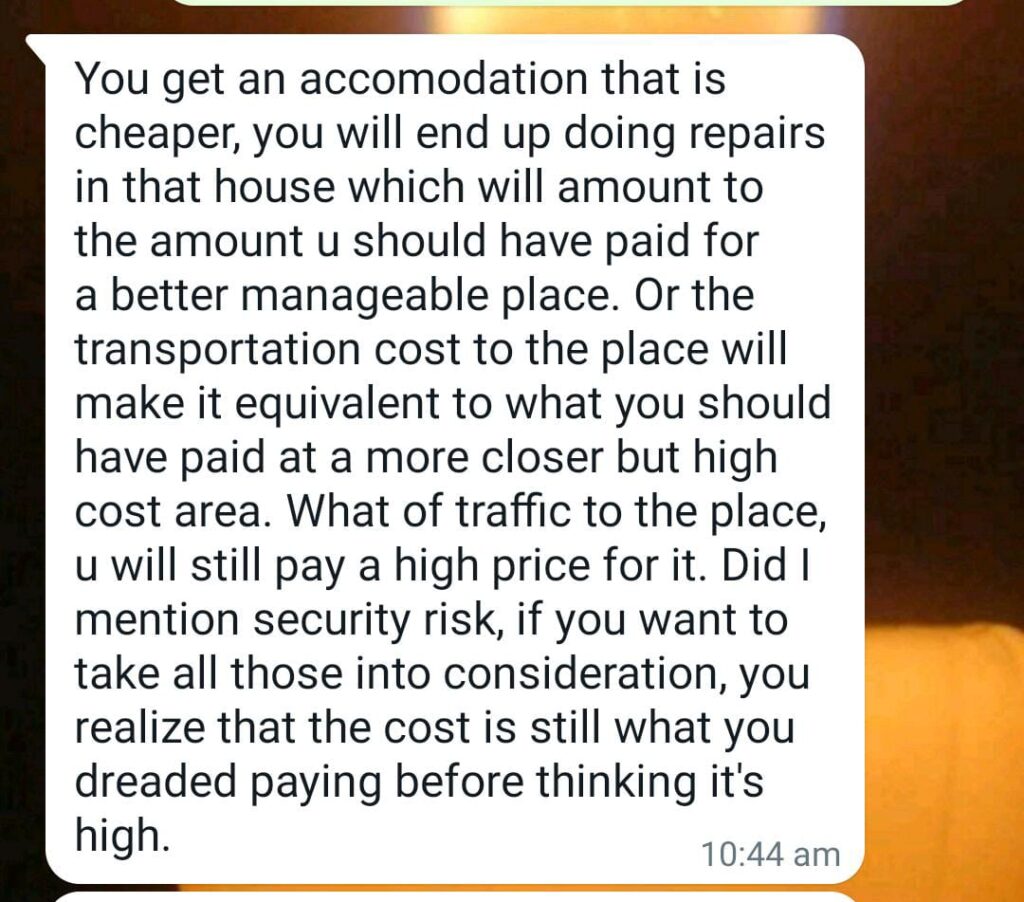 The conductor argued with the tout that he had neither dropped off nor picked up a passenger from the bus stop; but the agbero persisted, hanging on to the vehicle until the man gave him 100 Naira as he would not be dissuaded.
As soon as he left, another tout came: "owo mi da!"  in the usual aggressive manner, his voice altered to make it sound even more aggressive. The conductor too responded aggressively. His argument was very obvious.  he had just settled his 'colleague'(the first "agbero"). If you understand Lagos, you surely know that you do not need to be gentle for a danfo job or the job of living in Lagos.
The "agbero" feigned leaving, went behind, opened the boot of the bus, took the spare tyre, and ran across the service lane. The conductor jumped down and pursued him and the driver had to slow down and wait.  Just then, another came and shouted "owo mi da", and before passengers could explain what was happening, he went for the engine cover and took it across the service lane. The driver came down to chase him, and yet another came "owo mi da" and went for the side mirror.
Soon there was a fight between the driver, conductor and three "agberos" all the while, the bus was parked in the middle of the road. As is often the case, a senior agbero "settled" the matter but some money was still obtained from the driver. Ten minutes later, the driver and conductor came back with the vehicle parts and we continued the journey. The supposed short trip was now tiring.
Where does all the "owo mi da" money go?   The driver lamented that the multiple levies make them work for nothing, and that there is no definite number of groups that could pounce on a vehicle for such levies. It is the reason danfo buses often lack mirrors, wipers, door padding or engine covers. At bus stops, "agberos" take them if their levies are not paid as demanded. Sometimes they even pull off the doors of the buses.
It is now about a week since I had that experience, but for the very first time in the history of Lagos as I know it, danfo buses are on strike. They are protesting against "owo mi da"  against multiple taxations. Of course, there still are "danfo" buses on Lagos roads this week, but they are fewer hence, the cost of transportation has gone up for some routes.
Those who drive to work, should experience ever-needed solace for the duration of the week-long strike as there will be less traffic-inducing buses, but this is Lagos, the city does not follow the norm. It is the second day of the strike and traffic is unprecedented, even "inside streets" are unmoved. The explanation?  More people now drive to work as buses are scarce. I hope that Lagos returns to her sea of yellow-with-two-black stripes soon.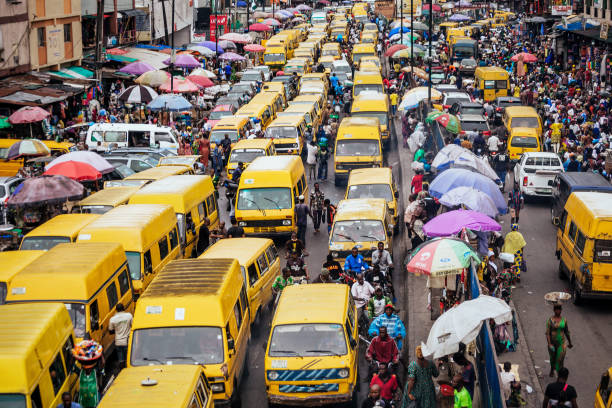 How did the rest of my trip go? We left that bus stop and just before we got to the next, there was a loud bang, and one of the tyres of the danfo ruptured.  As the driver steadied the vehicle, I was grateful that he was not going fast and that they had 'settled' and gotten the spare tyre back. Another drama ensued as some passengers wanted a balance of their fare so they could get on another bus. The conductor refused, most buses that passed had no space for passengers anyway.
I stood and watched.  After 15 minutes, we continued the journey, and three minutes later, I was at Ojuelegba. Finally!
As I alighted, a sharp edge of the seat tore my trouser, and all at once I remembered the chat with my friend. I was only glad that when we moved from where the bus had burst its tyres, spoilt, the fuel did not finish- a regular thing with "danfos".
They say "change is constant" and it is true. The Lagos transportation system has evolved over time, what has remained the same is the aggression common in "this Lagos" streets.
I hear that once there were the Bolekoja vehicles, a name that means "come down let us fight". That was replaced with Molue (said to be coined from the English word "maul", and fittingly so) which had people squeezed in like sardines. It is never filled up, it could always take in more people.
The Danfo (a Yoruba word for "confused" but now a proud English word) has become a constant feature in Lagos commuting, and it is expected to withstand change, unlike its dying older brother. The BRT and LAGBUS came in a few years back, but the latter sometimes still have the Molue compaction characteristics.
Bikes as a means of fighting traffic are restricted and recently banned in most places, leaving commuting inside streets to Keke Maruwa (tricycles) and Korokpe (mini-buses). Maybe the light rail will eventually be added, but even with these alternatives, the danfo reigns supreme.
With this strike, I wonder; will the state government again make an attempt to reduce the dependence of commuters on the "danfo", and in doing so get rid of this nothing less of the iconic mode of transportation in Lagos? I wonder too if the regular sight of conductors fighting with passengers and "agberos" will soon be gone,  the many danfo chronicles  Lagosians have along with it.
"This Lagos" is a theatre, your moving on the road could be an interesting drama or a thrilling movie. Will there ever be a Lagos without an "owo mi da!"?
Your support is appreciated
I'm sure you enjoyed your experience here and would like to make a kind donation to me. Thank you, in advance!
Work is over. Grab your stuff. Wait for a bus or hail a taxi. Get...